Important information
Please note that all activities in our church building have now been suspended and office cover is likely to be a little patchy for the foreseeable future.
We will closely follow the guidance and resume as soon as it is safe to do so.
Welcome to Truro Baptist Church.
If you are new to TBC, or are thinking about coming along, whether to a Sunday service or to any of the events and activities that we hold, we want you to know that we will do our best to make sure you feel welcome.
CAN WE PRAY FOR YOU?
As one of the churches in our city we are praying this blessing of God's hope, joy and peace for you and your household.
If there is anything specific you would like us to pray for then please let us know through our website, by email, or by leaving a message on 01872 241984 and we will pray.
You don't have to leave names or contact details if you would rather stay anonymous, we can still pray.
CLICK HERE to send us your prayer requests.
HELP NEEDED
We are going to deliver this postcard of God's hope, joy and peace to every household in Truro over the next week or so. If you are able to help us deliver some of the 8,000 we have printed in your area, could you please contact Ginney in the church office.
Sunday Services
We intend to live stream some worship, teaching and prayer via Facebook live from 10:10am every Sunday morning. This approach will allow you to interact at appropriate times, such as when we pray.
CLICK HERE to link into the service without signing up to Facebook.
Sunday's Services
Watch again
CLICK HERE to visit the "Listen again" page where you can listen to and/or watch our Sunday services.
TBC YouTube Channel.
All our streamed service are also available on YouTube.
CLICK HERE to watch 20th September
CLICK HERE to watch 13th September
CLICK HERE to watch 6th September
CLICK HERE to watch  30th August
CLICK HERE to watch 23rd August
CLICK HERE to watch 16th August
CLICK HERE to watch 9th August
CLICK HERE to visit our YouTube Channel for more services and other videos from TBC
Daily prayer 8am and 8pm
A number of people have already committed to praying at 8am and 8pm each day.
We are using the Facebook members group and the TBC Keeping Connected WhatsApp group to communicate what we are praying for and what we feel God is saying in these days.
Please contact the Church office if you would like to join the WhatsApp or Facebook  group.
National guidance on corona virus
If you are not already overloaded with information and just want some helpful links to some of the common questions, here are the best sites to go to:
CLICK HERE for the Government response to corona virus
CLICK HERE for NHS information on corona virus
Try and not get mislead by social media rumours, always check them out on reputable sites like these and if you are finding it difficult with all this information, give yourself time away from your phone or computer to relax, enjoy nature, read a book or drink a cup of tea.
Supporting those without access to computers or the internet.
We are aware that there are a small number within our congregation who won't be receiving emails and who cannot join us to worship remotely on Sunday.  Every one of them has been linked up with a pastoral care group and I want to thank all those of you who are already looking out for these vulnerable people.
We thought it would be good, alongside these pastoral care groups, to set up some letter writing to these people, so if you would like to write to someone else in the church who is feeling isolated, please let us know and we will link you up.
May the God who gives endurance and encouragement give you the same attitude of mind toward each other that Christ Jesus had,  so that with one mind and one voice you may glorify the God and Father of our Lord Jesus Christ. (Romans 15:3-6)
Prayer of the Apostles
These 'apostolic prayers' will, as we meditate upon them, help us as we continue to think about our personal response to Christ and what it means to be both a gathered and a scattered community.
We will also see the 'ARISE' foundational principles
– Ambition for the Kingdom –
– Restored Identity –
– Inside out living –
– Servants of all –
– Empowered by the Spirit –
We are seeking to introduce as a church and live by day by day embodied within each of the prayers.
Word on a Wednesday:
'The Grace'
Wednesday 16th September 2020

This Wednesday Nicky unpacks 'The Grace'.
CLICK HERE to watch on YouTube. 
2 Corinthians 13:14
May the grace of the Lord Jesus Christ, and the love of God, and the fellowship of the Holy Spirit be with you all.

One discussion group will be on Zoom, Wednesday 16th Sept at 7:30pm with the usual TBC zoom number and password.
Previous Words on a Wednesday.
CLICK HERE to watch 2nd September
Matt introduces the 'Prayers of the Apostles'

This Wednesday Steve takes a look at John 17
Hollie talks about serving with YWAM
Hollie answers a few questions as she looks forward to serving with YWAM in 2021. In addition to praying for her, you can read more about her plans on her Just Giving page via the link below.
CLICK HERE to read more.
Youth With A Mission (YWAM) The Discipleship Training School (DTS) is designed to help you understand God more deeply, live more like Jesus and identify your unique gifts and purpose to use in missions. DTS is an intensive course which begins with a residential part followed by followed by an 8-12 week outreach. DTS emphasises cross-cultural exposure and global awareness, preparing students to answer the call to "Go into all the world and make disciples of all nations" Matthew 28:19. https://www.ywamengland.org/
Psalm 23 by our
Powerhouse Children & Team
During lock-down the powerhouse children & team members joined together to make this short video on Psalm 23.
Music by Klaus, Healing Waters. Pure Worship.
Helping our neighbours
A local lady Becky Wass has designed a simple card that you can print off and drop around to your neighbours if you feel you can help them.
CLICK HERE to download it
IMPORTANT: The information on Corona Virus is changing rapidly, please make sure to keep up to date and take every precaution suggested.
A Bucketful of Songs
Barney Trevivian has been faithfully leading worship for well over thirty five years and has blessed us all with his guitar, vocals and enthusiasm.
On Saturday 22nd February Barney, joined by a host of musicians and singers, performed fourteen worship and gospel songs he's written over the last forty-two years.
CD's are available to purchase with the proceeds split between rescuing children off the streets of Nairobi (Tumaini Kwa Watoto) and YWAM (Youth With A Mission).
You can also find the Album "A Bucketful of Songs" on Spotify, iTunes, YouTube Music, Google Play & Amazon Music.
It was, as expected, a great evening of fun, music and worship.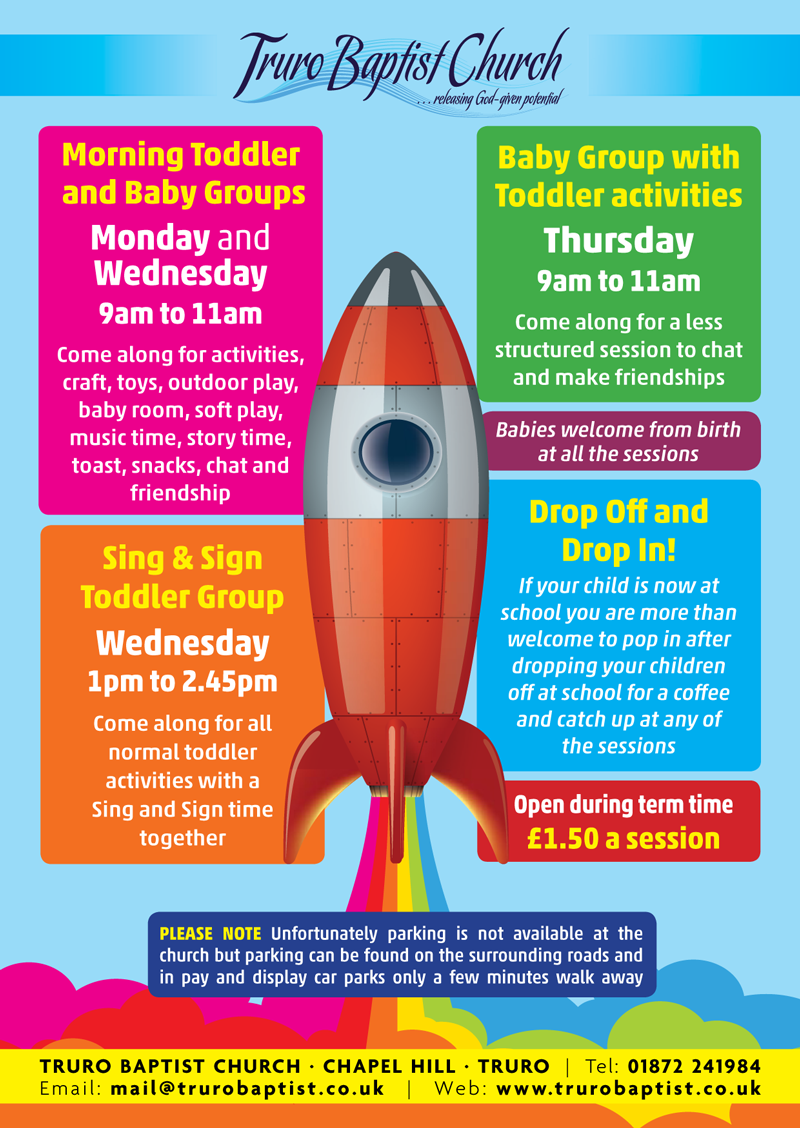 Drop Off and Drop In!
If your child is now at school you are more than welcome to pop in after dropping your children off at school for a coffee and catch up at any of the sessions!
TODDLER & BABY GROUPS
All Toddler & Baby Groups are cancelled until further notice.
We look forward to opening them again as soon as we are allowed.
Our toddler & baby groups run during term time, the kettle will be on and the team look forward to welcoming you.
Morning Toddler and Baby Groups
Monday and Wednesday
9am to 11am
Come along for activities, craft, toys, outdoor play, baby room, soft play, music time, story time, toast, snacks, chat and friendship
Sing & Sign Toddler Group
Wednesday
1pm to 2.45pm
Come along for all normal toddler activities with a Sing and Sign time together
Baby Group with Toddler activities
Thursday
9am to 11am
Come along for a less structured session to chat and make friendships
Babies welcome from birth at all the sessions
Parking at the Church is extremely limited and we advise you not to use the Church's car park, there are spots on surrounding roads that allow you to park free for up to 2 hours and a couple of pay and display car parks a few minutes' walk away.
The TBC Toddler & Baby team