Welcome to Truro Baptist Church.
If you are new to TBC, or are thinking about coming along, whether to a Sunday service or to any of the events and activities that we hold, we want you to know that we will do our best to make sure you feel welcome.
Vacancy
Youth Worker
(30 hours per week)
Truro Baptist Church is a growing, diverse church family, seeking to be led by the Spirit. We are focussed on, and passionate about, seeing the transforming power of the Kingdom of God change lives and communities.
We are looking for a Youth worker to join the growing and dynamic staff team, to build on and develop the work amongst young people in the church and, together with other churches, in the community.
CLICK HERE For more information
2020 Vision
"My house will be called a house of prayer for all people"
Isiah 56:7
At the begging of this new year and a new decade, and what feels like a new season in the life of our church, we want to set the whole of January aside to pray and fast.  We will be building on the weekends of prayer we have had during 2019 and using this time to launch into the days ahead.
How you respond to the different elements of the month is entirely up to you.  I do believe that the impact of it for you / us / our community is dependent upon what we are willing to put into it.  My advice would be to allow your usual patterns and routines to be disturbed during the month – it will be worth it – you will see a change in your prayer life after the month has finished.
Matt
CLICK HERE to see how you can get involved
Alpha?
Starts Thursday 30th January
7:15pm in the House of Prayer
We believe that everyone should have the chance to explore the Christian faith, ask questions and share their point of view.
Alpha is ideal for people who are not Christians but have questions, people who are new to the Christian faith and those who need their faith encouraged.  Each session, presented on film, looks at a different question of faith and is designed to create conversation.
Alpha is FREE but places are limited so booking is essential.
CLICK HERE for more information
Relate Right
7pm Thursdays
6th February – 19th March
A seven session course that will help you deal with some of the major offences and hurts experienced in relationships.
Relate Right will enhance our relationships, whether with friends, spouses, family or work colleagues. During these seven evenings we will tackle subjects such as trust, honour, independence, removing shame, creating good boundaries, living life openly and being vulnerable, as well as discovering how to deal with some of the major offences and hurts we can all experience in relationships.
There is no charge for Relate Right, just come along expectant.
Contact the Church office for more information
A Bucket Full of Songs
Sat 22nd February 6:30pm – 9:30pm
Barney Trevivian has been faithfully leading worship for well over thirty five years and has blessed us all with his guitar, vocals and enthusiasm.
On Saturday 22nd February Barney, joined by a host of musicians and singers, will be performing thirteen worship and gospel songs he's written over the last forty-two years.
The event is free with refreshments provided. CD's will be available to purchase with the proceeds split between rescuing children off the streets of Nairobi (Tumaini Kwa Watoto) and YWAM (Youth With A Mission).
It promises to be a great evening of fun, music and worship.
All are welcome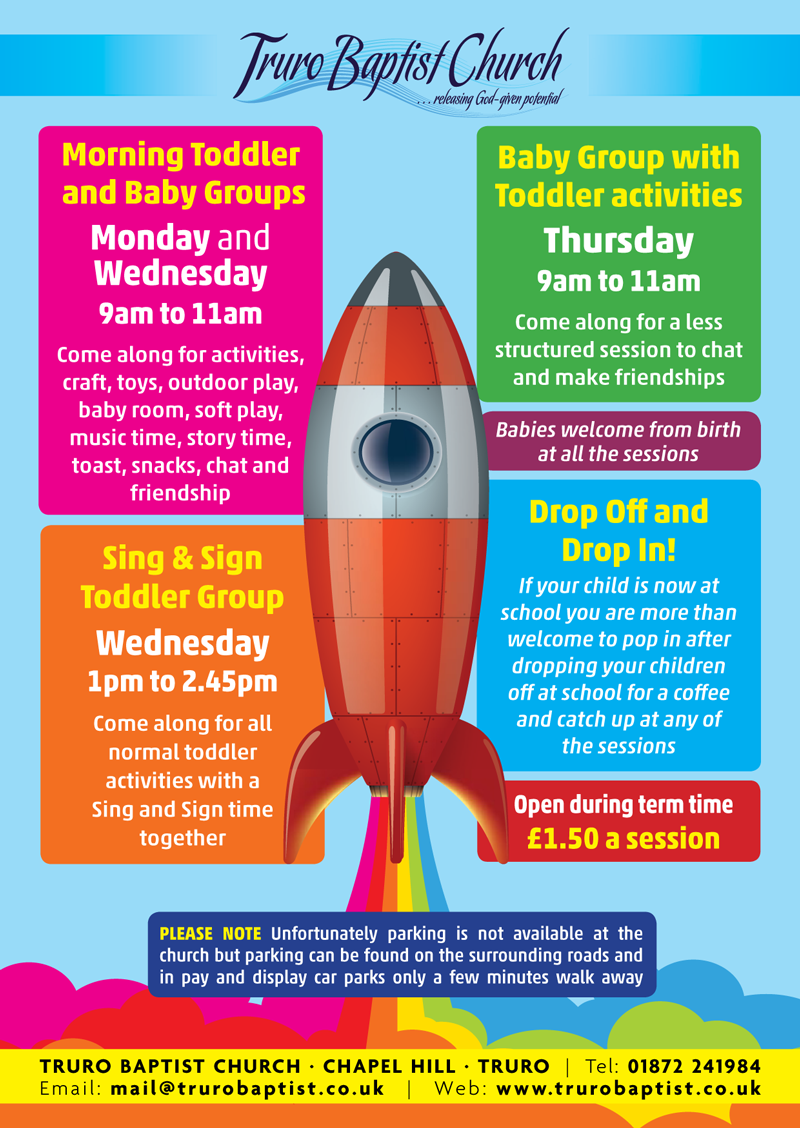 Drop Off and Drop In!
If your child is now at school you are more than welcome to pop in after dropping your children off at school for a coffee and catch up at any of the sessions!
TODDLER & BABY GROUPS
Our toddler & baby groups run during term time, the kettle will be on and the team look forward to welcoming you.
Morning Toddler and Baby Groups
Monday and Wednesday
9am to 11am
Come along for activities, craft, toys, outdoor play, baby room, soft play, music time, story time, toast, snacks, chat and friendship
Sing & Sign Toddler Group
Wednesday
1pm to 2.45pm
Come along for all normal toddler activities with a Sing and Sign time together
Baby Group with Toddler activities
Thursday
9am to 11am
Come along for a less structured session to chat and make friendships
Babies welcome from birth at all the sessions
Parking at the Church is extremely limited and we advise you not to use the Church's car park, there are spots on surrounding roads that allow you to park free for up to 2 hours and a couple of pay and display car parks a few minutes' walk away.
The TBC Toddler & Baby team
THIS IS A RUBBISH CAMPAIGN
You heard us right. Our world has a rubbish problem, and it's hitting people living in poverty the hardest. Multinational companies could make a big difference to this rubbish situation by taking responsibility for the plastic waste mountains their products are creating.
THESE COMPANIES NEED TO BE PART OF THE SOLUTION
Join Tearfund in calling on Coca-Cola, Nestlé, PepsiCo and Unilever to take responsibility for their plastic waste in poorer countries by making four 'Not Rubbish' commitments:
CLICK HERE to visit the Tearfund Website
CLICK HERE to Sign the Petition